Dostana 2 actor Lakshya is a fresh face. And it's a big surprise that nepotism father Karan Johar is introducing him. Quite surprising isn't it? But yeah it's true.
Akshay Kumar replacing Kartik Aryan in Dostana 2?
Karan Johar, a renowned director famous for promoting nepotism in the Bollywood industry introduced a new face to the public. It caused a noticeable wave in the digital world.
To clarify the public's doubt, he recently clarified in one of his tweets that "Lakshya" – the new face of industry in fact doesn't have any backdoor connection and went through a legit audition.
So let's dig about actor Laksh Lalwani. And know what's special in him. Which made Karan Johar cast him in his movie Dostana 2.
Dostana 2 actor Lakshya Acting career
First seen on television – 
Lakshya or originally known as Laksh Lalwani stepped into the entertainment industry in 2015 by participating in Roadies X2.
However, he didn't win the contest but this gave him the opportunity to bag a few television dramas and shows.
Earliest serial by Dostana 2 actor Lakshya – 
His first drama was "Adhuri Kahani Humari" on &tv in 2015. He was cast as the male lead of the show in the role of Yuvraj Madhav or Krish. 
Lakshya in "Pyar Tune Kya Kiya" –
In 2016, he was roped in by the makers of "Pyar Tune Kya Kiya" in zing tv as a lead role. He confidently played the romantic scenes opposite actress Karishma Sharma.
In an interview, he confessed that although he didn't act in any episodes before, he enjoyed the entire process of filming the episode and received approval from the filming crew right after the first shoot.
Dostana 2 actor Lakshya big hit drama – 
After a small role in "Pardes Mein Hai Mera Dil" as the ex-fiancee of Drashti Dhami, he got the lead role in Sony Tv's Porus in 2017.
This was the biggest budget tv series in the history of Indian television dramas. Even the concept was quite unique to the Indian audience.
Dostana 2 actor Lakshya Bollywood debut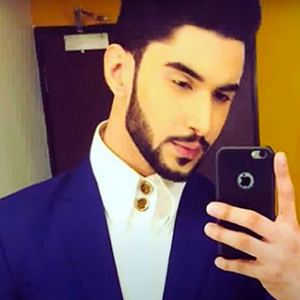 Lakshya has already joined Dharma Cornerstone Agency. With the much-awaited sequel of Dostana, he will be making his big-screen debut in "Dostana 2".
He will share the screen with Kartik Aryan. He shared this news in his official Instagram account with a caption expressing his excitement regarding his debut. 
Now let's take a look at his personal life details – 
Date of Birth – 19th April 1996
Age – 25
Religion – Hinduism
Hometown – New Delhi
Food-habit – Non-veg
Hobbies – Gymming and traveling 
Parents – Romesh Lalwani and Savita Lalwani
Educational Qualifications –
Laksh Lalwani finished his 12th from St. Xavier's School, Delhi.
He pursued graduation in fine arts and photography from Delhi University, Delhi.
Some interesting facts about Lakshya 
He dreamt of joining the Indian army since childhood.
Lakshya shared in an interview that, his experience of learning horse riding, sword fighting and rowing to make his character in "Porus" look convincing.
In fact, he was so dedicated to his work that despite getting injured while filming for "Porus" he didn't take any break to hamper the crew and continued the shoot.
3. In 2016, he dropped his surname as he felt that the motto of "Unity in diversity" is against the tradition of keeping a surname. He never thought of becoming an actor before getting a role in MTV's "Warrior High".
4. He revealed in an interview, that his favorite movie genres are action and thriller.
This year or maybe at the beginning of the next one, you guys will get to see Lakshya as a Bollywood actor in a role he didn't play out to date.
Arjun Reddy actress Shalini Pandey will be seen in this Bollywood movie
South famous actress Radhika Madnan Biography and her bollywood debut