After the release of varun Dhawan's Bhediya trailer, audience had high hopes. But did the movie really have that potential or not. Let's get to know about some good and bad aspects of the movie.
Bhediya movie Story, Direction
Bhediya movie story
Story starts when Bhaskar get a contract to cut off forests of a small state of Arunachal Pradesh. As his boss Bagga wants to create malls and roads in the name of modernity. Bhaskar also joined by his cousin Janna and a localite Jomin.
For this, they started to persuade the localities with the help of a native Raju.
But the story took surprising turn when Bhaskar bite by a wolf and later he starts to behave like a wolf and even killed two persons.
Cast
Varun Dhawan as Bhaskar Sharma.
Paalin Kabak as Jomin.
Abhishek Banerjee as Janardan / Jaana.
Deepak Dobriyal as Panda.
Kriti Sanon as Dr. Anika Mittal.
Saurabh Shukla as Bagga.
Direction/screenplay
Directed by- Amar Kaushik
Produced by-Dinesh Vijan
Writer- Niren Bhatt
With the budget of 60 cr, the VFX is on the mark, (even better than Adhipurush) especially the scene when a shadow of wolf came out of the fire. And the director tried to fully showcased the beauty of Arunachal Pradesh .
Moreover the movie also tried to give a small social message about the problems with north eastern peoples, that how people mocked them by calling "Chinese".
And it also tells about the beauty of nature. And how in the name of modernity many peoples trying to destroy the nature.
But if talk about the negative thing, which is it of its sometimes fail to connect with its audiences. The movie in some scenes felt boring and at a time it became predictable.
Only Varun transformation into bhediya , whenever Abhishek Banarjee tries to do silly things and the use of Himesh Reshmiyaa song tera suroor is an entertainment dose.
Furthermore, the biggest surprise of the movie is Rajkumar Rao and Aparshakti Khurrana (sorry for the spoilers). And as it showing the connection with Stree cast. It is a sign for the next sequel of the movie. And if it happens then it would be a treat for the fans to see their Bhediya and Stree together.
Acting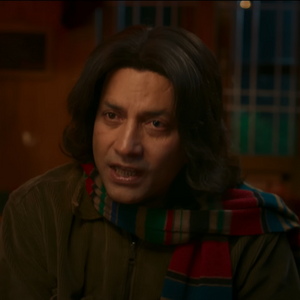 Varun Dhawan played his role with his full potential but still he needs to work on his comic timings. However the scene when he turns into wolf is really mind boggling.
Even after the main lead is Varun Dhawan, the real hero after the "Bhediya" is Abhishek Banerjee. He literally can make you laugh without saying a word. His presence will let you ignore all the negative aspects of the movie.
Paalin Kabak also shines into every scene whatever he did, say it any comic scenes or any emotional scene. He mastered in all.
Deepak Dobriyal had not much to do, but still he made his position in the movie.
And if talk about Kriti Sanon, then her screen time is less, but she played an important role in the movie.
Songs and Dialogue
The songs are a treat to the ears of the audience. Directors put the songs according to the situation and not a single song is forced. If you are a music lover, then you can give a try to its songs.
Moreover, the famous song "Jangal Jangal baat Chali he pata chala he" is placed perfectly.
Is Bhediya worth watching or not?
If you loved stree movie, then there is a high chance that you will be entertained here as well. Moreover Bollywood is trying to be experimental, so this is an appreciable thing.
And if you are a fan of Abhishek banerjee, then you can spent your money on theatre. Because he will not make you disappoint.
Moreover, he was also accompanied by Paalin Kabak. And this duo is literally pleasing for our eyes.
Review:- 3/5
So this is my personal opinion for the Varun Dhawan starrer Bhediya. Have you watched this movie? Do share your reviews in the comment section below.