Our Bollywood movies is full of cringe content. But even after so much cringe in Bollywood there are many movie we secretly watch "alone" and in front of our friends we lie to hate them. So here are some Guilty pleasure Bollywood movies.
Guilty pleasure Bollywood movies
Jaani Dushman: Ek Anokhi Kahani
This 3 hours film with a huge cast is absolutely next to impossible to watch in one go. The film has not 1, not 2 instead has 7 lead actors followed by Akshay Kumar, Armaan Kohli, Sunil Shetty, Sonu Nigam, Aftab Shivdasani, and Bobby Deol, Arshad Warsi. Moreover, Manisha Koirala was the female lead.
Despite this, the movie couldn't make its one percent place in audiences' minds. But if you have ever seen this movie, you can't deny that the overdramatic 'Nag-Nagin love story' is still in your memories.
Taarzan: The Wonder Car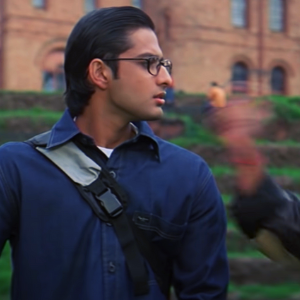 The must name in the list is this film. With growing up, now we are able to differentiate whether something is good quality VFX or not. And at our present age, undoubtedly we can characterize this film as an awful VFX presentation.
But wait, it is not possible that you didn't love this movie. Because, no matter how bad, illogical the VFX and the storyline are; everyone loved to fantasize about "Tarazan- the wonder car" and especially the teenage love story of Raj-Priya.
Vivah
Remember the most decent arrange marriage in Bollywood!!?
How can someone forget Bollywood's chocolate boy Shahid Kapoor's character in this film.
Don't know how many uncountable boys and girls fantasized about their marriage through this film. But now, this film will seem to us like an over-dramatic typical Bollywood film.
Main Prem Ki Diwani Hoon
We literally know how illogical any Bollywood film can be and this film takes place in this category. In our childhood maybe we didn't notice the illogical sequences of this film but now we can easily do.
And how can we forget over enthusiastic Prem and overdramatic Sanjana.
Yet, we still love the romantic complexion of our stylish superstar Hrithik Roshan, which is rarely seen now. And the most special thing I love about this movie is the song 'Kasam Ki Kasam'. The song gives a romantic vibe whenever I listen to this.
Rowdy Rathore
This is the film, where we can tolerate all the illogical sequences just to experience the unlimited entertainment and comedy dose.
I mean, if any action-comedy drama has Akshay Kumar and the director is Prabhu Deva, it is exactly the same as unlimited craziness with full of entertainment. Maybe, the film is not a blockbuster, but it is definitely the kind of movie which you would love to watch one more time.
Mela
The most flopped movie in the career of Aamir Khan is this one. Even Aamir Khan also regrets doing this film. The film badly failed at the box office and got huge criticism from the audience.
However honestly speaking, there are so many people who do love this movie but secretly. I don't know the reason behind it, though I think this movie is somehow deeply connected to our childhood memories.
Tees Maar Khan
This film also had the same reason to love it same as Rowdy Rathore.
I must admit that this film showcased more irrelevant kinds of stuff than Rowdy Rathore. In spite of the fact, the film can definitely make you laugh with its irrelevancies.
Sooryavansham
I really don't need to explain the cringe of this film and also don't think you're left from enjoying the memes on Sooryavansham.
I am sure that most people remember the Set Max channel more than this film!! 😉
But apart from the joke this film makes our childhood memories more cheerful than any other film.
Aamdani Athhani Kharcha Rupayaa
Those who watched this early 20s movie, they will make this film to be on this list. Because at last, this film was so entertaining no matter how much overacting the actors did in this.
Once you watch this movie you can't refuse to be entertained because of the comedy punches by Govinda, Johnny Lever, Juhi Chawla, Tabu, and many more. Even the title of the film is also so entertaining.
So this was the brief list of some movies which are 'guilty pleasure' movies in most of our lives. Comment down below your most loved movie from this list, if any. And don't worry I will not disclose your list to anybody else.