We Indians are so simple and we always ignore complicated things, and If by mistake you watch any movie which is very confusing then nobody can't save you. But no worry I am always here to save you. So only to save your precious time, I created a list of some most confusing Bollywood movies that can literally ruin your day and most importantly your mind.
Most confusing Bollywood movies
Roy
It is one of the flop movies of Ranbir Kapoor. Honestly speaking, except three renowned actors (Ranbir Kapoor, Arjun Rampal, and Jacqueline Fernandez) and some average songs, the film has nothing more.
Even the trailer of the film can't make anyone interested to watch the movie. And after ignoring everything, if someone still watches the movie, they will not have anything without complexity and disappointment.
Player
This film is not different from the above. The film has only a huge star cast. And what about acting?
Oh shit! What I am saying!! Apology . Because no actors even tried to do the "A" of acting. I really don't know what the purpose of the film was! Because neither the film has any sound storyline nor the acting is good.
Race 3
What to say about this film!! This is the most recent flopped film which failed for its 'illogical' scenes and dialogues.
Even many of the 'blind fans' of Bhai (Salman Bhai) can't resist themselves accepting this.
The filmmakers have nothing to offer to the audience except the huge star cast. Even the filmmaker don't know what he is trying to say with the movie.
Raincoat
Ajay Devgn and Aishwariya Roy Bachchan starring, this film is a love story. Here, the story is about two separated lovers who recelebrate their love.
The storyline was so simple and so much understandable. But as the film progresses, it becomes complicated. Otherwise, it can be a fine love story movie.
Dedh Isquiya
Great actors like Naseeruddin Shah, Madhuri Dixit, Huma Qureshi, Arshad Warsi, Vijay Raaz, and Manoj Pahwa were part of the movie. Despite having such a great cast, this film can't appeal to the audience because of the complicated plot of the story.
This 2005 movie is a rom-com movie. Vivek Oberoi, Mahima Chaudhary, Boman Irani, Ayesha Takia, Abhishek Bachchan, Juhi Chawla, Suneil Shetty, Naseeruddin Shah, and many more were part of this movie.
Naach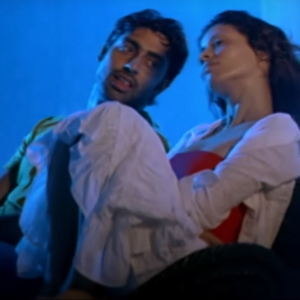 First of all, are you thinking that it is a dance-related movie!? You are wrong than, because this movie is not about dance at all.
I really don't want to waste your time sharing the story of the film. Just want to give you a big "NO" as a suggestion for giving it a place on your watchlist.
Inkaar
This film got an average response from the audience as a romantic drama. But it can take its place in the audiences mind if it concludes with a simple and considerable storyline.
Sarkar Raj
The first installment of this film was 'Sarkar' which was much more popular because of its strong storyline, but this second one makes the audience so disappointed.
Its illogical storyline left the audience with no clues for understanding the movie.
So, this was the small list of most confusing Bollywood movies. if you have any further movie names to add to this list, let me know in the comment box below.