Couples love to watch romantic Bollywood movies. And if that movie has "comedy ka tadka" in it, then there is no chance to skip it. If you are also a die-heart fan of Bollywood Rom-Com movies, let's go ahead with the names of Bollywood Rom-Com movies.
Shubh Mangal Zyada Saavdhan (2020)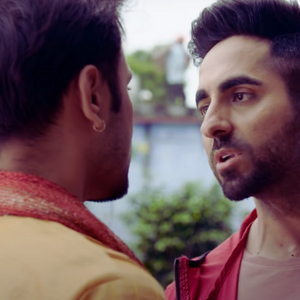 Shubh Mangal Zyada Saavdhan is one of the best Rom-Com in the year 2020 directed by Hitesh Kewalya.
With a excellent storyline of two gay men, it has wonderful star-cast. It stars Ayushmann Khurrana, Jitendra Kumar in the lead role along with Neena Gupta, Gajraj Rao and Maanvi Gagroo.
The film tells the story of two gay men who struggles to convince their family to accept their relation. It is totally a new and first ever initiated concept in the Bollywood industry.
The excellent acting of every actor in the movie bring it to another level and Ayushmann's superb mastery of expressions.
Luka Chuppi (2019)- Romantic comedy movie of Bollywood
Laxman Utekar directed Luka Chuppi is story of couple who go into live-in relationship. But the main twist comes when their family get to know about their relationship.
In this modern world, people still can't accept the live-in relationship because they think that it is against their culture. So, the couple  Guddu-Rashmi (played by Kartik Aryan and Kriti Sanon respectively) start a mission to hide their live-in relationship from their family.
Pyaar Ka Panchnama- Rom-com movie of Bollywood
Luv Ranjan directed Pyaar Ka Panchnama movie series have two parts . First one was released in 2011 and the other in 2015. It stars actor Kartik Aryan and Nushrratt Bharuccha.
It is a story of 3 boys who are upset with their love relationship. They find their relationship different from the actual romance they imagine.
Both parts are excellent and will definitely make you satisfied as a Bollywood Rom-Com Movie.  
Dostana (2008)- Bollywood Rom-Com movies
Tarun Mansukhani directed Dostana features John Abraham, Abhishek Bachchan and Priyanka Chopra. This one is one of the Best Bollywood Rom-Com Movies. Only the story of the film will make you smile and also make you feel interesting to watch the movie at least once.
The story is about two boys who pretend to be a gay couple only for having a apartment. They both fall for a girl Neha (Priyanka) and start to impress her in several manner. Gradually it becomes a competition between them until they realize that Neha actually love someone else.
In their competition to impress Neha make everyone laugh so hard.
Jab We Met (2007)- Romantic comedy movie of Bollywood
Jab we met is story of a girl named Geet and boy name is Aditya. Geet is crazy and Aditya is mature. They both living a completely different life from each other.
Aditya lives a frustrating life for which he starts a journey to gets out of it. On the other hand we have Geet a careless girl who is always happy and enjoy every moment of her life with full of heart.
The story becomes interesting when they both meet each other and the story of them begins. Geet's every behavior will make you smile and their coming closer will make you emotional too.
Hum Tum (2004)- Bollywood Rom-Com movies
Kunal Kohli directed Hum Tum is a very sweet and romantic story of two strangers who get to know each other on a flight. But unfortunately, they don't like each other for some certain reasons.
Their story begins with fight but meet at a lovely stage where they fall in love with each other. The story is so simple and has no complexity about love.
The best part of it is Director Kunal adds some animated scenes too which makes the film so cute.
The film stars Saif Ali Khan and Rani Mukherji who make the story so adorable by adding purity and innocence in their characters.  
Namastey London (2007)
Another Bollywood Rom-Com in the list is Namastey London directed by Vipul Amrutlal. The story centers on a man, Arjun (Akshay Kumar) who gets married to a British- Indian girl Jasmeet (Katrina Kaif).
But the real twist comes when Jasmeet refuses to recognize their marriage and wants to marry a British guy in London.
How Jasmeet falls in love with Arjun makes you emotional and sometimes funny.
The film also features Rishi Kapoor.
Ishq (1997)- Romantic comedy movie of bollywood
Indra Kumar directed Ishq is a must-one if you want to watch Bollywood Rom-Com Movies. The film stars Amir Khan, Ajay Devgan, Juhi Chawla, and Kajol. Every actor played brilliantly.
The story begins with a simple wish of two businessmen who just want their child Ajay (Ajay Devgan) and Madhu (Juhi Chawla) to marry each other.
But the strong complications in the story make it super comical. Raja (Amir Khan) is the close friend of Ajay and Kajal (Kajol) is the close friend of Madhu.
Ajay and Kajol fall for each other in a normal way but the crazy fight between Raja and Madhu will make you laugh. Despite these crazy fights, Raja and Madhu fall for each other too.
There are also some emotional moments in the movie, when Ajay and Madhu's fathers tried to split up them from their love.
Ajab Prem Ki Gazab Kahani (2009)- Romantic comedy movie of bollywood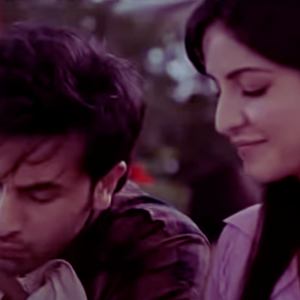 Rajkumar Santoshi directed Ajab Prem Ki Gazab Kahani is an extremely romantic comedy-drama of Ranbir Kapoor and Katrina Kaif. The pair make this film so adorable.
Prem, a Hindu boy falls in love with Jenny, a Christian girl. But unfortunately, Jenny doesn't. Despite his feelings for Jenny, he helps her to get marry to a boy Rahul whom she loves.
You will enjoy the comical part when Prem tries to impress and confess his feelings to Jenny. And can also feel emotional when Prem hides his feelings from Jenny.
It is an extremely recommended Bollywood Rom-Com Movie for a Rom-Com lover.
Best romantic Bollywood movies younger generations would love.
Bollywood Romantic movies you will fall in love.
If you find these movies preferable to add to the Bollywood Rom-Com Movie list, let me know in the comment box below. And if you have any other names then don't forget to tell me.