Bollywood is not good at making proper horror movies. No doubt some horror is good and can scare you. But some are not worth watching. But stepping down from this disappointment, Bollywood has a unique genre 'Horror Comedy Movies' to the audience. So let's check out some excellent movies from this genre.
Best Horror movies in Bollywood for you if you are a horror movie fan
Best Horror Comedy Movies In Bollywood
Stree ( 2018 )
I'm going to start the list with Amar Kaushik's 'Stree' starring Rajkumar Rao, Shraddha Kapoor, Pankaj Tripathi, Aparsakti Khurana and Abhishek Banerjee.
The story is plotted at a village named Chanderi. Where every villager is scared of a female spirit. They call it 'Stree'.
Here, Rajkumar Rao (Vicky) decides to reveal this mystery with the help of his friend Bittu. From here whole comedy elements start.
It is one of the Best Horror Comedy Movies in Bollywood. And also best one among all other movies of Rajkumar Rao.
Go Goa Gone ( 2013 ) – Best Horror Comedy Movies In Bollywood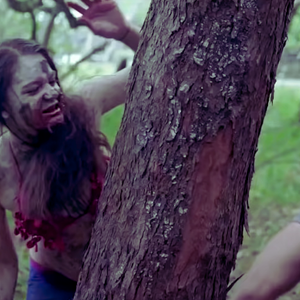 Raj and D.K. directed 'Go Goa Gone' is one and only unique piece of Horror Comedy Movie.
Are you wondering 'Why it is so special?'. Then let me tell you 'Why it is. Because only fewer Zombie related movies Bollywood produces to date and none of them have a comedy mixture in that.
It is a story of three friends who go to Goa for enjoyment. But their enjoyment turns into fear when they saw tons of Zombie's there.
The movie stars Saif Ali Khan, Kunal Khemu, Vir Das, Puja Gupta, and Anand Tiwari. The movie is an amazing blender of horror, comedy which will give you a different thrilling experience too.
Bhool Bhulaiyaa ( 2007 ) -Best Horror Comedy Movies In Bollywood
Among all the horror-comedy, "Bhool Bhulaiyaa' is my favorite. And I can assure you that, if you watch this, you will also add this to your list of favorite horror comedy movies.
The story is as follows, an NRI comes to his village after marrying, along with his wife. And they shift to his ancestral mansion which is rumor as haunted.
Priyadarshan makes this masterpiece in his direction. The story of the film is based on a psychological concept that is too unique and good.
And like the story, the casting of the film is wonderful. It stars Akshay Kumar, Ameesha Patel, Vidya Balan, Shiney Ahuja, Paresh Rawal and Rajpal Yadav.
Here, Akshay Kumar is the Psychiatrist friend of the NRI, Siddharth (Shiny Ahuja). In the movie, the trio Akshay Kumar, Paresh Rawal, and Rajpal Yadav created the ultimate blast of comedy altogether.
Bhootnath Series (2008) , ( 2014 )
Nitesh Tiwari directed 'Bhootnath Returns' is the sequel of 'Bhootnath' starring Amitabh Bachchan in the lead. The first part of this series was awesome and perfect one for kid's entertainment.
This second part is also good as here the ghost Kailash Nath (Amitabh Bachchan) returns to earth. Other ghosts in heaven make fun of him as he couldn't make anyone scared. For this reason, he comes to earth.
Although he couldn't scare anyone but one small kid, Akhrot can see him and they both became friend.
The film is plotted on a political satire where Bhootnath becomes a political leader to reduce corruption from the city.
In a nutshell, the movie is a lovely composition as a Horror Comedy Movie.
Hello Brother (1999)
Directed by Sohail Khan and starred Salman and Arbaaz Khan along with Rani Mukherji. Hello Brother' is a total configuration of Salman Khan brothers.
Vishal ( Arbaaz Khan), a policeman shot but saved by a heart transplant. The heart was donated by Hero (Salman Khan).
The real twist started when Vishal starts to communicate with Hero's ghost, who helps him to take revenge on Vishal's shooter.
The movie is simply very good. By starring Johny Lever, Razak Khan, and Shakti Kapoor the film does not compromise in comedy as well.
Chamatkar ( 1992 ) – Best Horror Comedy Movies In Bollywood
'Chamatkar' is a very sweet, simple, and funny movie directed by Rajiv Mehta. It stars Shahrukh Khan, Urmila Matondkar, and my favorite Naseeruddin Shah.
It is a story of a village teacher (Shahrukh Khan) who was betrayed and met with a ghost Marco (Naseeruddin Shah) who was also betrayed by someone.
From there, the journey of this pair starts and comes together and created some funny situations.
So, these are some of the names of the Best Horror Comedy Movies In Bollywood. Have you watched any of these? If Yes, then Don't forget to tell me about your experience.