We always heard the phrase 'Old is Gold'. And it's true. Although, we start to enjoy modern action, fiction, and other genre movies. But, Bollywood classic movies are jewels compared to new generation films.
Most of the old films of Bollywood were truly Oscar-worthy films which new era films don't deserve.
Concepts, stories, cinematography, acting skills of actors – everything was perfect in every film of that time. That's why old films are unbeatable in every manner.
So, let's have a look at these classic movies of Bollywood.
Bollywood Classic Movies
Mr. India ( 1987 )
Shekhar Kapoor directed 'Mr. India is an unforgettable movie for any generation. Everyone can watch this movie no matter whether the viewer is from the 90s or 21st century.
And I can assure you that everyone not only watches this but also loves it. This movie stars famous and talented Bollywood actors Anil Kapoor and Sridevi and Amrish Puri.
It is a story of a guy who loves kids so much that he lives with a gang of orphan kids. The story took a turn when a kid died by a gangster. He then decided to take revenge for this.
Arun, the guy has a special wristwatch invented by his father. The specialty about that watch is it can make anyone invisible who wear it.
This mission against the gangster is so adventurous and funny as well. And we still love two iconic hit songs 'Hawa Hawaii' and 'Kate Nahi Katate Ye Din Ye Raat'.
Anand ( 1971 )- Bollywood Classic Movies
Anand is another masterpiece of Bollywood. The two megastars of Bollywood Amitabh Bachchan and Rajesh Khanna star is in this movie.
Anand is directed by Hrishikesh Mukherjee. Other talented actors in the film are Sumita Sanyal and Ramesh Deo.
The story centers on a terminally ill guy Anand (Rajesh Khanna) who has very little time to live but limitless enthusiasm to live his last days.
Dr. Bhaskar (Amitabh Bachchan) is his doctor who is impressed by Anand's enthusiasm so, he decides to write a book on Anand.
The movie is an emotional melodrama. And everyone acts so well.
The iconic dialogue of Superstar Rajesh Khanna, " Babumushoi, Zindagi badi honi chahiye … lambi nahin'. The dialogue is amazing, meaningful and inspiring.
Ittefaq ( 1969 )- Bollywood Classic Movies
Yash Chopra directed 'Ittefaq' is also a film of Rajesh Khanna. And Nanda as the female lead.
The story is about a guy who is passionate about painting . He crosses every limit for painting. He even threaten his wife to kill her.
The story takes turn when her wife was murdered. And police arrest him in this murder case.
The movie is an combination of suspense, thriller and some drama.
The story pleasantly presented with a help of great cinematography.
Chalti Ka Naam Gaadi ( 1958 )- Classic movies of Bollywood
The movie Chalti Ka Naam Gadi is directed by very talented director Satyen Bose. The special thing about this movie is that it has our favorite Kishore Kumar- 'King of Magical Voice' on screen.
The film casts the trio of the Kumar brothers – Ashok Kumar, Kishore Kumar, and Anoop Kumar along with the most beautiful actress Madhubala. The name of the film is even so creative and different.
The story starts with Brijmohan (Ashok Kumar) who is betrayed by a woman and lost hope to live his life. Therefore his two brothers also decide to stay bachelor for the rest of life only for his elder brother.
Unfortunately, the twist comes when two brothers fall in love by chance. This film also have certain super hit and evergreen songs like 'Ek Ladki Bheegi Bhagi Si', 'Haal Kaisa Hai Janab Ka', and 'Babu Samjho Ishare'.
I think you also love this songs for sure. I will recommend you to watch this masterpiece at once.
Mother India ( 1957 )- Classic movie in Bollywood
The all-time evergreen movie of Bollywood is 'Mother India'. This masterwork directed by Mehboob Khan. And the lady who creates the ultimate magic in this with her great acting skills was the gorgeous actress Nargis.
Moreover, there are other talented actors also, like; Sunil Dutt, Rajendra Kumar, and Raaj Kumar. It is one of the most cultural and classic movies of Bollywood and also one of the best Indian movies.
This film won the All India Certificate of Merit for Best Feature Film and the Filmfare Best Film Award. Nargis and Mehboob khan also gained awards for Best Actress and Best Director respectively.
And the most special thing about this film is that it was the first Indian film ever to be nominated for Academy Award for Best International Feature Film.
Sholay ( 1975 )
The most iconic movie of Bollywood is Sholay directed by Ramesh Sippy. The star-cast of all megastars, iconic dialogues, super hit songs excellent composition, and outstanding acting of all the actors altogether make it a blockbuster. 
The films has Amitabh Bachchan, Dharmendra, Sanjib Kumar, Amjad Khan, Hema Malini, and Jaya Bhaduri.
Many famous dialogues of this movie are known to you and you also love them.  
The iconic dialogues of this movie are 'Ye Haath Mujhe De De Thakur',  'Arrey Oh Sambha Kitna Inaam Rakhe Hai Sarkar Hum Par?',  'Kitne Aadmi The?',  'Yahan se pachas pachas kos door gaon mein; jab bachcha raat ko rota hai, toh maa kehti hai bete soo ja; soo ja nahi toh Gabbar Singh aa jayega, Chun Chun Ke Maarunga',  'Gabbar ki Taap Se Tumhe Ek Hi Aadmi Bacha Sakta Hai, Ek Hi Aadmi, Khud Gabbar',  'Tera Kya Hoga, Kaalia?',  'Ye Haath humko Dede Thakur',  'Jo Darr Gaya, Samjho Marr Gaya'.
And Jai-Veeru's unbreakable friendship is still a remarkable.
Moreover, the evergreen songs like 'Yeh Dosti', 'Mehbooba Mehbooba', 'Haa Jab Tak Hai Jaan' also loved by all.
Devdas (2002)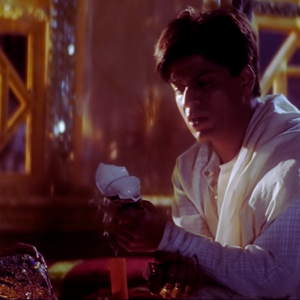 One of my favorite Shahrukh Khan movie is 'Devdas'. Devdas is directed by famous director Sanjay Leela Bhansali.
All-stars of the film are talented. It stars the Bollywood king Shahrukh Khan along with two very much glamorous actresses Aishwarya Rai and Madhuri Dixit. And nobody could forget the character of chunnilal played by Jackie Shroff.
The film is based on a Bengali romantic novel 'Devdas' written by Sarat Chandra Chattopadhyay. It is a very emotional, romantic, and love complexity-related story among three characters Devdas, Paro and Chandra Mukhi.
We all know that Sanjay Leela Bhansali's movies are always big-budget because of their big star cast, expensive sets, costumes, and so on. By this 'Devdas' became the most expensive Indian film ever made at that time.
The film won five National Film Awards and eleven Filmfare Awards which is a very big honor for any movie. Not only the film but the actors and director also gain awards for their best performances.
Among all these classic movies, which are the movies you want to watch first? Let me know in the comment section. And if you have already watched any of them, don't forget to share your views on it.
Also Read:-List of most awaited movies of year 2022
Also Read:- Overrated Bollywood movies that were not that worth