Bollywood is blessed with talented actors. But in the era of the '30s to '70s, Bollywood has the most prominent and skillful actress with astonishing beauty, who is none other than Madhubala. So let's get to know about the best movies of Madhubala career.
No doubt she had great acting skills but the list which I created is loved by many, including me. So let's start and know about the best movies of the Venus queen of Indian Cinema .
Best movies of Madhubala
Howrah Bridge (1958)- Superhit movies of Madhubala
Shakti Samanta directed 'Howrah Bridge' is a crime thriller revolving around a famous Howrah bridge of Kolkata.
In this, Madhubala portrayed the role of a cabaret dancer, Edna. And this film is one of the movies for which Madhubala's acting was appreciated.
Apart from Madhubala, actor Ashok Kumar was seen as the main lead. The storyline is about a businessman who belongs to Rangoon. He came to Calcutta to find the murderer of his brother.
This film has two famous soundtracks 'Mera Naam Chin Chin Chu' and  'Aaiye Maherbaan'. All the songs of the movie was compose by O.P. Nayyar. And maximum of us still listen to these songs agree no?
Kala Paani (1958)
Kala Paani also released in the same year and was a big hit in Madhubala's career.
This film also starred Superstar Dev Anand and Nalini Jaywant.
In the direction of Raj Khosla, this film is a crime thriller.
The story is about a young man who investigates his father's 15-year-old murder case and tries to find evidence for his father's innocence by finding the real criminals.
Here, Madhubala played the character of a house owner Asha. And Karan (Dev Anand) stays at her house as a paying guest. Asha is also a professional Journalist and helps Karan in his mission.
Chalti Ka Naam Gaadi (1958)- Best rom-com movies of Madhubala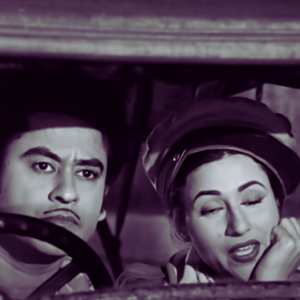 Satyen Bose directed 'Chalti Ka Naam Gaadi' starred Madhubala and the Kumar Brothers (Ashok Kumar, Kosore Kumar, and Anoop Kumar).
The film has a very unique story. The story revolves around Brijmohan (Ashok Kumar). Ashok is betray by a lady and he lost all the possible reasons to love.
His brothers are very close to him, therefore, they decided to have bachelorhood for a lifetime to support his big brother.
But the twist came when they both fell in love. Which created this situation funny.
Here, Madhubala, as Renu played the lead role opposite Kishore Kumar (Manmohan) who played the role of one of the brothers. The other two female leads were Shahira and Veena.
This film has more than one super hit and evergreen songs like 'Ek Ladki Bheegi Bhagi Si', 'Haal Kaisa Hai Janab Ka', and 'Babu Samjho Ishare'.
Mr and Mrs 55 (1955)
This film is of the romantic genre.
Mr and Mrs 55 is a sweet story of a married couple.
Seeta Devi arranges his niece Anita's (Madhubala) marriage to a young man, Preetam Kumar (Guru Dutt).
At first, Anita couldn't accept this marriage and hated her husband.
But the story took a lovely turn when she started falling for her husband and experiences the true meaning of marriage and love.
The film was direct by Guru Dutt who also played the lead actor.
The film is one of the mentionable works of Madhubala.
Half Ticket (1962)
The movie was direct by Kalidas and is one of the best movies of Madhubala.
Half Ticket is a romantic comedy with a lovely storyline.
In this film, Madhubala paired with Kishore Kumar.
Vijay (Kishore Kumar), is the son of a rich industrialist who is forced to get married. But, it is against the wish of Vijay and he decides to run from his home.
In this journey, Vijay decides to travel as a child to get a half-ticket. In the train, Vijay meets Rajnidevi (Madhubala) and from here the romance of the couple starts.
Mughal-E-Azam (1960)- One of the Best movies of Madhubala
K. Asif directed 'Mughal-E-Azam' is one of the iconic movies of the Bollywood cinema.
It is a romantic movie belong to a historic period.
The cast of the film was also best. It have Prithviraj Kapoor, Madhubala, Dilip Kumar and Durga Khote as lead roles.
The film tells the love story of Salim who falls for the beautiful courtesan, Anarkali. But Salim's father's disapproved of their love.
This film is a unique work done by Madhubala. Anarkali's role portrayed beautifully by Madhubala. And because of her, the character of Anarkali became an iconic character in the Indian film industry.
Tarana (1951)
Ram Daryani directed this film also stars the pair of Dilip Kumar and Madhubala.
It is a romantic love story of Dr. Motilal and a simple village girl, Tarana.
Dr. Motilal reached a village when his plane crashes. In the village, he meets Tarana and starts to fall in love with her. She also started falling for him.
But Tarana's one-sided lover create obstacles to separate them.
Madhubala is a blessing for the Bollywood Industry and we can't decline the fact that her acting and beauty made a huge place in the heart of millions of people. And her beauty and acting can make any film perfect.
Madhubala is one of my favorite actresses from the old era. What do you think about her and which films of her you would like to watch? Let me know in the comment section.
Know about First actress of Indian Cinema