Jennifer Lawrence keeps winning our hearts playing everything from bow-wielding heroines to expert scam artists. So gather your snacks and get ready for an exciting journey through the Jennifer Lawrence movies!
Jennifer Lawrence Movies
The Hunger Games series (2012-2015)
Jennifer Lawrence plays Katniss, a District 12 teenager who signs up to take part in a televised fight to the death, in the "Hunger Games" film series. She has to avoid perilous situations, outwit her rivals, and deal with the media stress surrounding the games while traveling. It's similar to "Survivor" and "American Idol," but much bloodier and with less of Simon Cowell.
Winter's Bone (2010)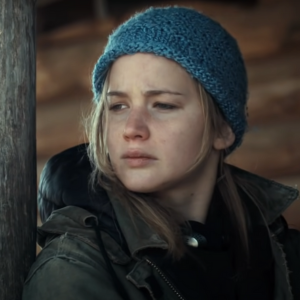 In the film Winter's Bone, Jennifer Lawrence plays the role of Ree, a teenager who lives in the Ozarks with her messy family. She searches for her missing drug-dealing father to prevent the foreclosure of her home. She encounters a variety of interesting people along the road, including a grumpy squirrel skinner and a group of meth cooks. Will Ree locate her dad and keep her house? , watch Winter's Bone to find out.
American Hustle (2013)
Jennifer Lawrence portrays Rosalyn Rosenfeld in the movie American Hustle. She is the impulsive and angry wife of a con man who caught in an FBI trap. This is a story about love, betrayal, and the perfect hairdo. Will the lead characters succeed or will they caught in their deceit and lies? Find out by watching American Hustle!
Joy (2015)
Jennifer Lawrence plays a woman who creates a mop in the movie "Joy," revolutionizing the cleaning sector. It's a rags-to-riches tale that demonstrates everything is possible with willpower, tenacity, and an excellent mop. Bradley Cooper, Robert De Niro, and a tonne of spilled liquids are also included in the film. If you're sick of using a standard mop to wipe up messes, Joy's innovation might be the solution you've been looking for!
X-Men
In the movie X-Men, a team of mutants with superhuman abilities battle to rescue the planet, but: Jennifer Lawrence as Mystique steals the show. She is blue, fierce, and capable of changing into any person she chooses. She is essentially a Halloween party all by herself. Lawrence steals every scene she's in with her sassy attitude and killing moves, making us all wish we could change into our favorite superstars as well.
Silver linings playbook (2012)
In the romantic comedy-drama "Silver Linings Playbook," Jennifer Lawrence and Bradley Cooper trade spaceships for dance floors. Your heart will be warmed by their surprising love tale as two lost souls trying to find their way in life.
Passengers (2016)
In the sci-fi romance blockbuster "Passengers" (2016), two strangers wake up 90 years too early on a spacecraft destined for a new planet. Starring Jennifer Lawrence and Chris Pratt, the movie explores themes of love, morality, and isolation as the two characters struggle to come to terms with their new reality.
Red Sparrow
Jennifer Lawrence plays a young Russian intelligence officer who is charged with wooing a CIA agent who is in charge of one of the most important missions in the agency's history in the gripping thriller Red Sparrow. Lawrence's character must traverse a web of lies and manipulation while attempting to keep her own secrets a secret as the two spies engage in a risky game of cat and mouse. Red Sparrow is a must-watch for everyone searching for an exhilarating trip because it features breathtaking performances and heart-pounding action.
You may also Like – Some of the Best Kathryn Newton Movies
Conclusion
We seem to have concluded our marathon of Jennifer Lawrence movies. This leading lady has given us many reasons to keep going back for more, from The Hunger Games to Silver Linings Playbook. Jennifer Lawrence movies provide something for everyone, whether you're a devoted fan or just enjoy an action-packed comedy. Get ready to be amused by the one and only J-Law by grabbing some popcorn, sit back, and relaxing. May the chances be ever in your favor till the next time!