Bollywood's rapid growth is tremendous. Nowadays, so many movies are hitting the box offices in crores and some are a thousand crores also. But how did the journey of crores start from and which was the first Bollywood movie to cross 100 crore?
So, get ready to know about the most special and memorable film of Bollywood which crosses 100 crores Box Office for the very first time.
First Bollywood movie who cross 100 crore for first time
Babbar Subhash directed 'Disco Dancer' is the First Indian Film which crosses ₹100 cr. The film was released on 17, December 1982 under Subhash Movie Unit (production house).
The story wrote by Dr. Rahi Masoom Reza and Deepak Balraj Vij.
Apart from them, Babbar Subhash had a major contribution to the film as a producer.
This film has some excellent legendary actors and actresses like Mithun Chakraborty (as main male lead), Kim (as the main female lead), Rajesh Khanna, Gita Siddharth, Om Shivpuri, and many more.
What is Namashi Chakroborty doing nowdays
The super-duper hit dance items were created by two other legends of the music industry that were Bappi Lahiri and Faruk Kaiser as composer and lyricist respectively.
Story Of Disco Dancer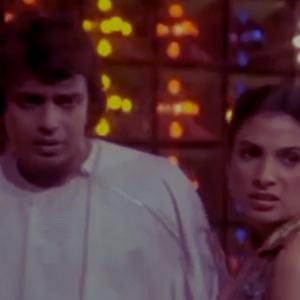 The story of the film centered around a boy, Alin. He belongs to a poor background and his mother was tortured by a rich guy. Alin is a street dancer and a wedding singer.
But gradually, the street dancer from Bombay slums became the rising Disco Dancer by overtaking current Disco champion, Sam.
In this journey, David Brown (Om Puri) helped him.
Being an outsider and with poor background, he struggled and faced uncountable difficulties in the industry. But his fans and his excellent performance deliberately made him a superstar of the country and he changed his name to 'Jimmy'.
Meanwhile, he also fell for Rita. Rita is none other than the daughter of the man who tortured his mother. But in his every bad situation, Rita always supported and loved him a lot.
But Jimmy's life turned in a difficult direction when Rita's father, Oberoi vowed to destroy Jimmy's life.
Oberoi tried many ways to kill Jimmy, by connecting high voltage to "Jimmy's electric guitar or breaking his legs. But all was in vain.
In between this, Jimmy's mother died while saving him from the electric guitar. And after this, Jimmy started scared from guitars.
Sam took the advantage and made Jimmy scared with a guitar and spoiled his whole performance. But Jimmy's uncle Raju (Rajesh Khanna) motivated him to perform and Jimmy starts to sing.
But in between, Oberoi's goons tried to kill him but get saved by his uncle who lost his life for him.
In the end, Jimmy beat his enemies and took his revenge.
Super Hit Songs of Disco Dancer
'I Am A Disco Dancer'
'Jimmy Jimmy Jimmy Aaja'
'Auva Auva Koi Yahan Nache'
'Ae Oh Aa Anjaan'
'Yaad Aa Anjaan Raha Hai'
'Krishna Anjaan Dharti Pe Aaja'
'Goron Ki Anjaan Na Kalon Ki' (Normal & Sad Version)
I am sure that you heard at least one song among them. We can't deny that these soundtracks can make anyone dance.
The title track of the film 'Disco Dancer' is so famous in India as well. Apart from this, this soundtrack won the Gold Award in China also. And got the Platinum award.
Box Office collection of First Bollywood movie to cross 100 crore
This masterpiece of Bollywood earned ₹105 crores in India only and almost ₹1,176 crores in the rest of the world. It was the strongest commercial performance in the West Bengal state of India and Russia.
However, the whole of India was crazy about the film but West Bengal's people's craziness was at a super high level. And the reason behind this is that Mithun Chakraborty and the music composer of the film, Bappi Lahiri was from West Bengal.
The film was recognized as–
The first Indian Film to gross ₹100 crores worldwide.
The most successful and profitable film at the Soviet Box Office.
The biggest foreign hit of the 1980s.
The Fourth biggest box office hit of the decade.
The eighth biggest foreign hit of all time.
One of the top 25 biggest box office hits of all time.
The highest-grossing Indian film overseas of that time.
The film made a huge remark in the history of  Indian Cinema Industry. It has two remakes also; one in Tamil named 'Paadum Vaanampadi' and the another is in Telugu named 'Disco King'.
It was a real turning point for the Bollywood Industry and the biggest inspirations for other actors, directors to make their film a super hit like this.
What do you think about this biggest blast in the history of Bollywood? Don't forget to share your thoughts on this in the comment section below.