Here I will do a full review of Akshay Kumar's movie Laxmi earlier titled Laxmi bomb. And why Is the Laxmii movie Hinduphobic in the eyes of audiences?
Laxmi producers had to change their movie name to Laxmi because of the controversy done for the word "bomb".
And after Sushant's case and when the public decided to start boycotting Bollywood.
Is Laxmii movie Hinduphobic
Before I will tell you Is Laxmii movie is Hinduphobic let's analyze the movie story and performance by actors.
laxmii movie story-Is Laxmii movie Hinduphobic

Laxmmi revolves around the couple Asif and Priya who did inter-caste marriage against their parent's wish. Therefore they wanted to mend their relationship with their family. Because of this, they moved to Priya's house for her parent's wedding anniversary.
But in between, Asif goes to a place where he shouldn't go. As a result, a transgender ghost Laxmmi possessed him.
Because she wants to take revenge for injustice done to her in her past life.
Acting

Akshay Kumar is like a synonym of comedy in the Bollywood industry. It clearly shows in his movies like Housefull, Hera Pheri, garam masala, and so on. But somehow now his comedy is being stereotyped.
Akshay Kumar is the powerhouse of energy and in Laxmii also he put his whole energy. Khiladi Kumar did his work with deeply and intensity. He catches Laxmii's character very effectively.

In every scene when he gets posses with laxmii you'll definitely love his acting. The supporting cast's acting is good. However, it looks like Kiara Advani is only for glamour and love scenes. She has nothing worthful to do.
The surprise package of the movie was Sharad Kelker who did the role of transgender Laxmii. He really did his small role in a way that will definitely create Goosebumps.
Laxmii movie Cast
Akshay Kumar as Asif
Kiara Advani as Asif's wife Priya
Sharad kelkar as Laxmii
Laxmii movie Direction
Directed by:- Raghav Lawrence
Produced by:- fox star studios
It is appreciable that the director wants to put a social message in front of audiences about the equality of transgender and what problems they face. But because of poor writing, its illogical haunted background music, and rubbish editing, the Laxmii movie only feels like torture.
There is no Chemistry between Akshay and Kiara (maybe because of the age difference). if I talk about editing; there is no sense of any scene or song and the director doesn't know what seen should put after a scene.

I love Kanchana (Muni 2) and watch it multiple times. And loved the scenes of Raghav jumping into her mother's lap and Raghav's fear of ghosts. Along with this, the Saas-Bahu duo in Kanchana was literally fun to watch.
I don't know why the director wanted a loud performance by actors. All the dialogues were rubbish and there is no new to see in any of the comedy dialogue.
Is Laxmii movie worth watching or not- Is Laxmii movie Hinduphobic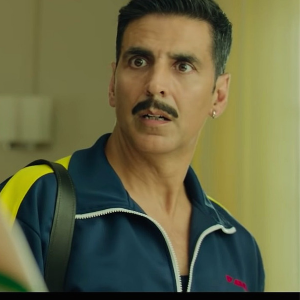 If you are Akshay's fan then you can handle this three-hour torture of Laxmmi bomb. I can say that the motive to create this movie was also good. But the bad writing, editing, and illogical songs is the biggest obstacle in the movie.
Also read:- Is dolly Kitty Aur Woh charmante sitare is worth watching?
Is Laxmi movie Hinduphobic
After the release of laxmii movie, netizens called it Hinduphobic. What is Hinduphobic?
Hinduphobic means anti-Hindu or we can say that things which are disrespectful for the Hindu community.
Is laxmi movie hinduphobic tell me in the comment section. Here I am gonna tell why netizens called it Hinduphobic.
If you notice, that when the movie starts it mocks the Hindu community.
After the movie's release, people were twitting negative about the movie and said that the movie only focused on secularism. And mocking the transgender community.
One more mistake that was seen by the public is that why villain wearing shoes in maa's temple?
What do you think? Is these statements are fair?
My review for movie:-1/5
Important notice- Must read this
Disclaimer: This article is only published for the entertainment purpose of its readers. And I don't want to hurt the sentiment of any person. The above information is gained through research from the internet. Filminutz apologizes if anyone got hurt by any comment or word.
Hope my review helped you to decide whether to watch Laxmii bomb or not. If you want to send your queries don't hesitate to contact form.