A lot of movies released in Bollywood about women empowerment. Compared to the old era, now we have a big list of women-centric movies. But of these, only some touch the heart of female audiences. I am presenting the list of movies every girl should watch.
Before it's too late read the list of some of my favorite movies which I can watch multiple times and can learn so much.
Bollywood movies every girl should watch
Mother India:- 1957-Movies every girl should watch
Radha, a village girl married Shambhu. But he abandoned her along with their 4 kids. She faced all the problems alone. Radha has some principles which she never forgets. Radha's character was portrayed by Nargis Dutt. And I think it was the best performance done by her.
Chhapak- Movies every girl should watch
Story of acid survivor Malti who fought for justice for the inhuman thing done to her. She was thrown acid by a man doubled her age. Just because she said no to him for marriage he did this inhuman thing to her. But Malti didn't give up and live her life in a new way. This story is based on real-life acid survivor Laxmi Agarwal who put the petition to ban acid.
Lipstick under my burkha
Lipstick under my burkha movie is a 2016 Indian black comedy that won a lot of awards. It is a story of four females Usha, Rehana, Aahana, and Shireen. All in search of their freedom. And faced lots of hatred and odds from society and family.
Dangal
The real-life story of Phogat sisters who earned fame in wrestling, which often called a male sport. And by this, they proved to us that "choriya choro se Kam nahi hoti" (females are not less than men in anything).
Damini- Movies every girl should watch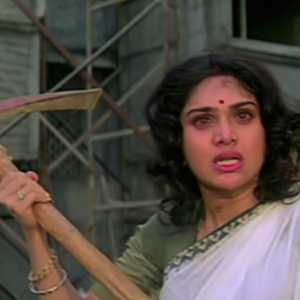 An innocent village girl Damini gets married into a rich family. On the day of Holi, she saw that her brother-in-law and his friends are sexually abusing their maid. Damini decided to get justice for the helpless maid. And even after a lot of opposes from her in-laws, she became a voice for her.
This is personally my favourite movie because it shows the reality of society. Who always support a man and told a women to shut their mouth on the name of family's "Izzat" (honor).
From the acting of Meenakshi Seshadri to direction to story, everything is really awesome and worth watching.
I highly highly recommend this movie to each and every female out there. And not only females, males should also watch this movie at once.
Thappad
A normal housewife who always lives for her husband and ill mother-in-law. In return, she only wanted love and respect from her husband. But in return, he gets a slap. Which put a question mark on her self-respect.
She decide to take divorce. But society disagree with her and say "ek thappad hi to tha" (what's the big deal its only a one slap). And advice her to not stretch this "little matter". But it's about her self respect so she did not bow down in front of this injustice.
Lajja
The movie shows the life of four women and their struggle for their self-respect and restrictions put on them. It's about how they overcome gender inequality and abusive relationship.
Queen
When a boy left a girl on the day of their marriage. The broken girl decided to go for her honeymoon alone. And after this journey, she figured out her real worth and also gain self-esteem. I personally thought this is the best movie done by Kangana Ranaut up to this date. If you haven't watched "Queen" you should watch it at once. And I am definitely sure you'll love this movie.
Pink
When females live their life on their own terms, society calls them characterless. Pink is the story about three independent girls who are the victims of sexual abuse by some ill-minded males. And only because they drink a sip of beer and talk friendly with some boys. These boys thought it is a sex invitation for them.
How these girls fought for justice and struggled with the society, is the rest of story.
Game over
A game developer who has a horrible past still haunts her. But instead of giving up she fought with her fear and gain her self-confidence.
Mardani part 1 and 2- Movies every girl should watch
Both the parts of Mardaani are worth watching. It's about a female police officer Shivani Shivaji Roy. Who gives justice to innocent people and fought with the crime. Rani Mukerji's performance is way too good in both parts.
Rani Mukerji as Shivani Shivaji Roy
Parched
A village in Rajasthan who plague with child marriage, dowry, marital rape, physical and mental abuse. The parched movie is about four women who struggle with all this. And because of their courage, they come out from this swamp.
This is the list of movies every girl should watch before 30. Apart from this, there are many films which are also worth watching. But these are one of my favorites. Tell me about your favorite in the comment section below.