Whenever we lose hope for a vacation between the unescapable busy days we can watch Best Travel Movies of Bollywood and enjoy your travel from your home.
Movies never failed to inspire us to travel the world. When we miss the chance to make a travel plan, we all tried to get some freshness through watching these Bollywood travel movies.
So, if you are also feeling frustrated or want to watch any travel movie to have some freshness in your stressful regular life. Don't miss these Bollywood movies that will trigger your wanderer nature. And will give you serious travel goals.
Best Travel Movies in Bollywood
Dil Chahta Hai (2001)
I would like to begin this interesting discussion with a wonderful movie, 'Dil Chahta Hai' which can be considered as one of the most memorable travel movies of all time.
Directed by Farhan Akhtar and Produced by Ritesh Sidhwani, this movie is close-to -heart of all teenagers and adults.
At that time, audiences were not so familiar with this type of coming-of-age romantic movie therefore this film is very remarkable and special.
Besides this, this film showcased the lives of Indian Youths with a traveling concept which is another reason for the film which makes it special.
The film featured Amir Khan, Akshaye Khanna, Saif Ali Khan as the male leads and Preity Zinta, Dimple Kapadia, Sonali Kulkarni as the female leads.
And the unique storyline of the film written by Farhan Akhtar.
The film mainly portrays the ups and downs of three adult guys. The movie revolves around their love relationship, friendship, and career which make all the young audiences to connect with the characters.
The film was shot at numerous places like Goa, Sydney, and Kasauli.
The incredible trio, Shankar-Ehsaan-Loy composed all the  heart-melting songs with fascinating lyrics by the legend Javed Akhtar.
If you are a travel freaking person, this is one of the must-watch for you.
Zindagi Na Milegi Dobara (2011)
The film which is most preferable to be the next is 'Zindagi Na Milegi Dobara'.
This film also has Farhan Akhtar as a part of it. The film is directed by Zoya Akhtar and produced by Farhan Akhtar and Ritesh Sidhwani.
The amazing story of the film is written by Zoya Akhtar and Reema Kagti. The film stars multiple famous actor and actresses like Hrithik Roshan, Abhay Deol, Farhan Akhtar, Katrina Kaif and Kalki Koechlin.
And Shankar-Ehsaan-Loy composed this film's soundtracks which are creating erratic magic.
This film is also centered around three childhood friends' lives, who decide to go on a trip to Spain. But this trip was not a normal trip for all of the three friends. All of them have felt something new for the very first time.
You will definitely enjoy their journey through out the whole movie. The film is shot in various foreign places like in Barcelona, Costa Brava, Seville, Pamplona of Spain and London.
This film is also counted as one of the inspirational movies because of the way of winning over life's fears.
Queen (2014): Best Travel Movies in Bollywood
Vikas Bahl directed 'Queen' is a Hindi comedy-drama. It presented in a very simple yet unique way.
The film stars two super talented actors; Kangana Ranaut and Rajkumar Rao and Lisa Haydon as well.
The story is about a small-town girl whose marriage is arranged by her family as a typical middle-class family do.
But the twist in her life comes when her fiancé denied marrying her just before the marriage. And by this, her heart broke into pieces. But instead of remaining broken, she decides to go to London alone. Because London was their honeymoon destination.
Being a girl who belongs to a middle-class family, it was so difficult for her to survive in London alone but she makes it possible with her strong guts. She comes out of her comfort zone.
List of some good movies every girls should watch in Bollywood.
This unpredictable journey changes her life totally and makes her a new person.
The story of Rani (Kangana) here is very much inspirational for every girl as it inspires girls to be self-dependent and to love themselves.
I think every girl who wants to be independent and travel the world, must watch this film at least once. 
Piku (2015)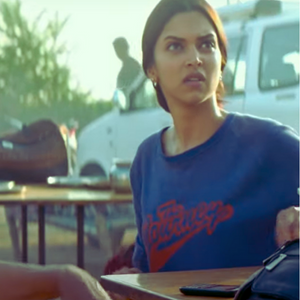 Directed by talented Bengali director Soojit Sarkar, 'Piku' is a comedy-drama with a lovely story of a father and daughter.
The film features so many talented actors and actresses like Deepika Padukone, Amitabh Bachchan, Irrfan Khan, Moushumi Chatterjee, and Jisshu Sengupta.
Most of the cast and crew is Bengali people in this movie. Even most of the locations is also in Kolkata and you will definitely enjoy Kolkata in your home.
The impressive soundtracks of the movie are composed by the well-known Tollywood music director Anupam Roy.
The movie starts with a father and his daughter. They lives in Delhi. The duo is opposite in every aspect like their tastes, ideology, thoughts. So, most of the time so many little conflicts occur between them.
Piku wants to sell their ancestral property in Kolkata. So they go to Kolkata by road.
This journey brings some change in their relationship which is displayed in the film in a very sweet manner.
And Soojit also represented Kolkata in a very beautiful manner.
Karwaan (2015)
'Karwaan' movie is a fully road trip movie as most part of the movie is continued about trip.
The film is directed by Akarsh Khurana and produced by Ronnie Screwvala and Priti Rathi Gupta.
The film stars Irrfan Khan, Dulquer Salman and Mithila Palkar. Each actor has achieved huge popularity from their different platforms. Like Irrfan Khan from Bollywood, Dulquer Salman from South Indian Industry, and Mithila Palkar from several online platforms through several web shows.
Avinash father died in an accident. But when he was about to do cremation process he found out that the body was of a women.
So Avinash along with his friend decide to go to Koyembatur to exchange the corpse.
Because he found out the body of the woman was of a teenage girl's grandmother and she also received the body of Avinash's father.
Irrfan Khan has given a great sparks of comedy in the film with his excellent acting skill.   
Yeh Jawani Hain Deewani (2013)
Ayan Mukerji's 'Yeh Jawani Hai Deewani'  is a blockbuster and hugely successful in the Box office.
This film is also a travel- romantic movie. The story of the film is written by Ayan Mukerji. The film shows a unique and unexpected love story of Kabir and Naina.
Here, Kabir is a travel freak person who wants to travel the whole world and explore everything and never want to settle down in life. This is the reason behind why Kabir never want to fall in love and always does flirts.
But on the other side, Naina wants to settle down with her loved one and spend her life in simple way.
Kabir and Naina first met on a trekking trip. And later at the wedding of a close friend for the second time. And due to some circumstances they fall for each other.
The film stars Ranbir Kapoor, Deepika Padukone, Kalki Koechlin and Aditya Roy Kapoor.
If you are also a travel person like Kabir, this film is so much worthy for you to watch.
Best Bollywood Movies Ever Made Till Date
Love Aaj Kal (2009)
The last movie on my list is Love Aaj Kal'. It is directed by Imtiaz Ali who is a well-known director of the romantic movie genre. The film is produced by Saif Ali Khan and Dinesh Vijan. And all of the heartwarming songs are composed by Pritam.
The story of the movie is of two separate couples but from two different periods. Both the couple faces so many complications along with deep heartbreaks in love.
The film casts Saif Ali Khan, Deepika Padukone Vir Das Rishi Kapoor, and many more star casts.
The film is a popular and a hit at the box office and its songs are awesome.
So this was my list about the the Bollywood travel movies which will make you inspire to travel the whole world.
If you have already watched all these movies don't forget to mention your experience in the comment section below.