After watching some dumb Bollywood movies I am like, "What the hell is this !?" because there are some movies 'that are so dumb' which has illogical story, scenes, dialogues and everything. And that made me think that Is Bollywood really a garbage?
After watching these movies, we all just do one thing and that is 'REGRET'! So, If you want to save yourself and your valuable time from watching these movies, you are in the right place.
So, Let's start this topic without any delay and dig out the worst Bollywood garbage movies till date.
Is Bollywood a garbage?
Decide by Reading the full list of dumb movies in Bollywood.
Main Prem Ki Diwani Hoon (2003)
Firstly, I will start with Sooraj Barjatya directed 'Main Prem KI Diwani Hoon'. The film was released on 27 June 2003 with a great expectation to be a super hit according to its high budget and casting.
This film stars Abhishek Bachchan, Hrithik Roshan, and Kareena Kapoor in the story written by Sooraj Barjatya and Subodh Ghosh.
The storyline of the film is as unique as dumb. It starts with a newly graduated girl, Sanjana who doesn't like arrange marriage.
When her parents start to find a groom for her, Sanjana's elder sister tells them about a well-settled NRI Prem Kumar in the US. So, a meet-up between Prem and Sanjana is fixed.
Prem comes to meet Sanjana and gradually they fall in love. When Prem returns to the US, he promises Sanjana that he will come back.
But after some time, Sanjana's parents get to know that Prem Kumar couldn't come to meet Sanjana and the 'Prem' met with her is Prem Kishan (Hrithik Roshan) who is not an NRI, rather he is just an employee in Prem Kumar's (Abhishek Bacchan) company.
When real NRI Prem meets with Sanjana, he falls for her but she doesn't. And, then the ultimate emotional game starts between these three.
I think this story is so puzzling and illogical. Because when a person (Prem Kumar) becomes interested in someone (Sanjana), how can the person send someone else (Prem Kishan) to meet with his would be wife in the place of himself.
And icing on the cake, Sanjana's parents forced her to love Prem Kishan and when they found out that this prem is not prem they thought of, they ask Sanjana to love the original prem. Like what the toxicity is this?
But two things which can be remarkable in this whole movie, are:
The super hit romantic song named 'Kasam Ki Kasam' sung by K. S. Chithra and Shaan
The performance of Abhishek Bachchan which was got a nomination in the Filmfare Award for Best Supporting Actor.
Jaani Dushman: Ek Anokhi Kahani (2002)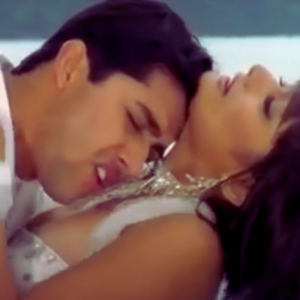 In addition to the list, Rajkumar Kohli directed 'Jaani Dushman Ek Anokhi Kahani' is next level dumb movie. This movie was released on 16 August 2002 and got a very awful reaction.
The film has tried so many ways to make it a hit like casting a bunch of well-known stars, keeping a sensitive touch of rape in the story and and horror plus "naagin ka tadka". But no way made this film a hit.
The reasons to make it a hit are less than the reasons to make it a huge flop. This film got uncountable negative reactions for its poor direction, terrible story, screenplay, etc. Moreover, this film has so many characters that anyone can get confused.
The bulk of stars who had appeared in this film are; Akshay Kumar, Suniel Shetty, Sunny Deol, Sonu Nigam, Manisha Koirala, Armaan Kohli, Arshad Warsi, Raza Murad, Sharad Kapoor, Aftab Shivdasani, Raj Babbar, and many more.
I just wondering how can so many big stars can take a single wrong decision together about signing this movie at a particular time! Really a maze to think over.
Prem Aggan (1998)- Worst Bollywood garbage
A well famous personality in the industry Feroz Khan directed movie 'Prem Aggan' is one of the most worst movies of Bollywood.
Feroz Khan was an all rounder in this movie! Sorry for the joke and not also! Because I obviously said this for a reason. Actually, Because Feroz Khan was the director, producer, writer and an actor in the movie as well.
The film casts Fardeen Khan, (son of Feroz Khan), Meghna Kothari, and Anupam Kher.
After releasing of the movie on 30 October 1998, the audience reacted so bitterly about the movie.   
Humshakals (2014)- One of the Worst Bollywood garbage
Sajid Khan directed 'Humshakals' is another bad trial of converting a bad story into a hit with only big star cast. This comedy drama has released on 20 June, 2014.
This film has also the ability to make you puzzled with numerous character of a particular actor.
From the name itself, it can be understood that the film is all about lookalikes  but no one can't imagine that how bad the actors had tried to make the audience laugh. But unfortunately, they couldn't.
The film stars Saif Ali Khan, Riteish Deshmukh, Ram Kapoor, Tamannah Bhatia, Esha Gupta, and Bipasha Basu. The three male actors has 3 lookalike of themselves. It means there are 9 characters played by these 3 actors.
At the last scene, these 9 characters appeared in the same screen which made it more confusing. Moreover, the story of the film is also not so strong to be a hit.
Kya Kool Hai Hum Series- Worst Bollywood garbage
Next one of the famous flop movie series is 'Kya Kool Hai Hum' directed by several directors in the several film parts.
First part – Kyaa Kool Hai Hum ( 2005 )
Director: Sangeeth Sivan
Producer: Ekta Kapoor, Shobha Kapoor
Cast: Tusshar Kapoor, Riteish Deshmukh, Isha Koppikar, Neha Dhupia, ANupam Kher
Second Part – Kyaa Super Kool Hain Hum ( 2012 )
Director: Sachin Yardi
Producer: Ekta Kapoor, Sobha Kapoor
Cast: Riteish Deshmukh, Tusshar Kapoor, Neha Sharma, Sarah Jane Dias, Anupam Kher.
Third Part – Kyaa Kool Hain Hum 3 ( 2016 )
Director: Umesh Ghadge
Producer: Ekta Kapoor, Shobha Kapoor
Cast: Tusshar Kapoor, Aftab shivdasani, Mandana Karimi, Karishma Abhishek, Gizele Thakrai, Claudia Ciesla, Darshan Jariwal.
This film is an adult comedy and all about sexual content. But in every film of this series, some things are constant and that is, poor storyline, bad acting, and trying so hard to make the audience laugh by silly sexist jokes.
Tees Maar Khan (2010)
'Tees Mar Khan' is a movie among the other nonsense comedy movies of Akshay Kumar. Farah Khan directed this film released on 24 December 2010. Although, this film so not a hit, but it got a mixed response from public.
Being a comedy movie, a little bit of nonsenses is considerable. In my opinion, this film has both the non-sense material and as well as the illogical material also.
One thing that must be appreciable is all the actor's crazy performance in this movie and especially of Akshay Kumar. I think this film can make anyone laugh but obviously can't make any sense.
Moreover, although the story of the film is just so much ridiculous, nevertheless the songs of this film is just awesome like the title track 'Tees Maar Khan' and 'Sheila Ki Jawani' . You just can't stop yourself to dance, once the songs played.
Himmatwala (2013)
'Himmatwala' is another film directed by Sajid Khan in this list. Released  on 29 March 2013. This  film is the remake of 'Himmatwala' by k. Raghavendra.
And others also had a poor storyline.
This film stars Ajay Devgn, Tamannaah, Paresh Rawal, Mahesh Manjekar, Leena Jumani, Adhyayan Suman, and many more. Apart from these, Riteish Deshmukh has a cameo role in the movie.
Rascals (2011)
David Dhawan directed 'Rascal' is a not so popular movie. The story of the movie is not an unique one, we can find this similar storyline in several Bollywood movies also.
As the story is of two guys who are in love with a same girl. But villain of the movie kidnapped her and after that, the journey of rescuing her starts over.
Beside this common structure of the storyline; the acting, screenplay, direction all are also so poor.
This film stars Sanjay Dutt, Ajay Devgn, Kangana Ranaut, Lisa Haydon, and Arjun Rampal.
Good Boy, Bad Boy (2007)
Ashwini Chaudhary directed 'Good Boy, Bad Boy' is another film which had got a very bad response from the public.
It was released in 11 May 2007 starring Emraan Hashmi, Tusshar Kapoor, Tanushree Dutta, Isha Shravani, and Paresh Rawal.
As you can see that the cast of the movie is not a bad combination of actors but the story of the movie is very bad and senseless.
The story centers around two boys Raju (Bad Boy) and Rajan (Good Boy) who are totally opposite of each other. One is so decent, brilliant student, favorite of teachers and a student who always belongs to section A (according to the movie only intelligent students are the part of section A) . And the other one is totally opposite in every manner.
By any chance, when there photos was pasted on exchanged college id cards of them two, their life start to go differently. Raju starts to live the college life of Rajan and Rajan starts to live Raju's. And the rest of the movie has shown their changed life and the process of changing there selves also.
So enough Bollywood's garbage movies from now. And if are still wondering that is Bollywood really a garbage then my answer would a big no, because Bollywood have so many good movies. Its up to the director/producers who planned these kind of illogical movies.
List of worst movies of Bollywood you should not watch for even 1 second .
So, this is the list of some Bollywood Movies that are so Dumb. I hope, now you can save your time by avoiding these movies to watch. If you think any more movie to add in this list, don't forget to mention it in the comment section below.