According to you, what's the most important part of a great movie after its story? Most of us will might say, its the climax/ending. Yes that's true. And the importance of climax increases, in the case, if the starting is great. But Bollywood has many movies, that were ruined by its climax.
And In this article, I am going to mention some of the 'Good' Bollywood movies which climax disappoint me.
Talaash: The Answer Lies Within (2012)- Movies ruined by Climax
Reema Kagti's directorial movie 'Talaash' will be a good choice to start this list. Although this film has a broad star cast like Aamir Khan, Kareena Kapoor, Rani Mukerji,kk Nawazuddin Siddiqui, Rajkumar Rao, and Shernaz Patel, nevertheless it has not a good climax.
This movie is a suspense thriller.
Story revolve around a Inspector Shekhawat (Amir Khan). Shekhawat is handling an accident case. This case is not normal as it seems, because it has a mystery behind it.
On the other hand, relationship of Shekhawat's and his wife Roshni is also shattering. And the reason behind this is their son Karan's death. Despite this, Shekhawat's continued the investigation.
During investigation, he met with a girl named Rosie, who give some statement related to the case.
Talaash's start made it suspenseful. But later on, this mystery story focused more on his personal life instead of the accident. And the supernatural element was also not quite satisfying.
And this is the main reason I added in the list of movies ruined because of climax.
Fan (2016)
The fillm is directed by Maneesh Sharma.
'Fan' is a film which is mostly related with Shah Rukh Khan's life. It is a story of a die-heart fan (Gaurav) of a film star Aryan Khanna.
From his childhood, Gaurav is crazy about Aryan and knows each details about Aryan. And the most amazing thing is that, his face looks closely similar to Aryan.
He wins a prize in a local program by doing Aryan's acting. One day, he decides to meet Aryan to show his prize.
But the things go wrong. Gaurav takes the disadvantages of his similar looks with Aryan and do wrongful acts presenting himself as Aryan. These affects on Aryan's reputation.
At last, Aryan also does the same like Gaurav. He exposes Gaurav to his family, neighbors, crush about his all wrong acts. But this scared Gaurav a lot, and he suicides.
At the ending, the rush of Aryan following Gaurav ends when Gaurav jumps from a building with a smile. Aryan realizes a feeling of a die-heart fan and how he should give respect to his every fan's love.
I have no complain with SRK acting, I have only complain with its spoiled ending. Instead of making Gaurav's suicide they could have thought of something different like to make both realizes their mistake. And a simple happy ending!
Keep in mind that this is my personal opinion and yours might be different.
Delhi 6 (2009)
Rakeysh Omprakash Mehra directed 'Delhi 6'  is another movie from this 'Disappointing Climax' category. This film is ruined by its miserable climax,
In the story, a NRI (Abhishek Bachchan) comes to Delhi with his grandmother who is seriously unstable. But unfortunately, he encountered some social and political issues, religion and caste indifference.
The ending of the film is really so odd. Roshan is beaten up by the local dwellers because of some misunderstanding.
And in the ending we see Roshan is having heart to heart conversation with his grandpa while eating jalebis. And boom!!! he is alive now. Why on the earth director thought of this?
Ghanchakkar (2013)- Movies ruined by its Climax
A comedy drama 'Ghanchakkar'  in the direction of Raj Kumar Gupta is another movie with poor climax. This film has Emraan Hashmi, Vidya Balan, Rajesh Sharma, and Namit Das as its cast.
Sanju and Neetu are married couple. Where Sanju is a expert safe-cracker and Neetu is a house wife. On day Sanju meets two criminal who give him proposal to rob a bank together.
But unfortunately, after the successful robbery, Sanju lost his memory in a car accident. This causes Sanju to forget the location of hidden money. The two criminals try as many ways as possible to get the money but all in vain.
One day, a unknown person calls Sanju and says that he was the actual mastermind of the robbery but those two criminals didn't give his share.
After all of these characters' meeting, willingly and somehow accidently everyone died except Sanju and his wife Neetu.
The movie starts with very much suspense but when it comes to end it lost its direction and confused the audience. And end with cliché ending.
Yeh Jawani Hai Dewani (2013)
Ayan Mukerji's first directed movie 'Yeh Jawani Hai Dewani' is a great choice to most of the people.The actors (Ranbir Kapoor, Deepika Padukone, Kalki Koechlin, Aditya Roy Kapoor) is loved for their performance in this movie.
Lets talk about the story; Kabir and Naina meet in a trekking trip because of their common friends. Naina has big crush on Kabir but never express it.
The next time they meet in a friend's weeding. This time Kabir also expresses his affection about Naina, but also said that they can't be together as it is not good for both of them.
Kabir always wanted to travel, explore everything and place in all over the world and never to stop somewhere in life. And on the other hand, Naina always wanted to live a peaceful life with her loved ones like every normal person.
But at last, despite so many of efforts Kabir can't stop himself from coming back to Naina and live together.  
Naina was sensitive character so she should have choose other instead of Bunny. Because Bunny was self centered person because he left her twice because of his career.
Kuch Kuch Hota Hai (1998)- Bollywood movies ruined because of Climax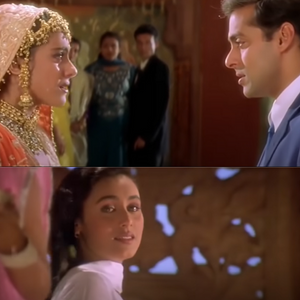 Karan Johar directed one of the most famous movie. Karan created a on screen-magic with Shah rukh khan, Kajol, Rani Mukerji, and Salman Khan.
Rahul and Anjali are best friends. Anjali loves Rahul but he never understand that. Rather Rahul falls for a another girl named Tina. Rahul and Tina get married after their college.
After many years, Rahul and Tina's daughter, Anjali finds a letter that Tina wrote to her before her death. In the letter Tina requests Anjali (daughter) to bring together Rahul and Anjali (Rahul's friend).
And at last, Rahul's daughter fulfil her mother Tina's last wish.
And Anjali left a sweet and caring guy like Aman who loves her unconditionally, for the person who goes only for looks.
Paa (2009)
R. Balki directed 'Paa' is a unique emotional story but not with a good ending scene.
Some prominent actors like; Amitabh Bachchan, Abhishek Bachchan, Vidya Balan, Paresh Rawal, and Arundhati Nag played the main characters.
Auro, a 12 year old boy suffering from a genetic disorder called Progeria. His mother is a Gynecologist who hides the actual identity of Auro's father Amol from him.
Auro is a bright student and is desperate to know about his father. Amol is a politician who has no idea about his son.
Once Amol comes to Auro's school and there they meet for the first time. Amol gets impressed by Auro's intelligent and they spend a lot of time together.
Later, Auro gets to know that Amol is his father but Amol doesn't. But at last while lying in the hospital bed, Auro requests his parents to live together again like before. And takes his last breath in the hospital.
His parents are mourned after his death and stayed together as per Auro's last wish.  
All was good about the movie but doing "Saat phere" at last by circling around Auro's bed is little bit insensitive in my opinion.
Cocktail (2012)
Homi Adajania presented a wonderful love-triangle of Deepika Padukone, Saif Ali Khan, and Diana Penty. Besides them Dimple Kapadia, Boman Irani, Randeep Hooda also is in the movie.
So the story goes like that; Meera go to London to find her husband Kunal. But he tells her that he don't want to live with her. With this incident Meera totally broke down.
After this, she met Veronica, an outspoken girl. Veronica helps her by taking her into her home as Meera was crying alone.
One day, Meera finds Veronica Gautam. And Meera already knew Gautam. Because he flirted with Meera earlier. So she hates him. However they gradually became good friend.
But unfortunately, Meera and Gautam starts to like each other. But are hesitated to express their feelings. Gautam tells his feelings to Meera but she doesn't.
At last, Gautam tells the whole truth in front of Veronica and Meera that he loves Meera.
As Veronica loves Gautam but still she behaves like she has no problem with this and accepts their feelings.
But when they go to celebrate this, in a party, drunk Veronica expressed everything that she hide her love for Gautam and hate for Meera.
The very next day, Meera leaves Veronica's house and Gautam and Veronica also stay apart. But after some time, Veronica realizes that she is not perfect for Gautam and bring back Gautam and Meera together.
And I know you will think that what's the problem with the ending? Everything seems fine here! But hey, no. Because I don't understand that, why Bollywood always shows a party girl alone and with no love life. And "Sanskari" girl like Meera always get the hero? Why man why?
Bonus point
As you came till last and bear my article, I have a bonus point for you
Kabir Singh
I don't know the reason, but I hate this movie. I added this movie in my worst list earlier as well, and now here I am again including this movie here.
After too many hurdles she finally be the "Azaad Panchi", but no, she doesn't love her freedom at all, so she marries the toxic guy "Kabir singh" and be her slave for the rest of her life.
Bollywood top movies that have glimpses of toxic love
These Bollywood movies are dumbest for a very big reason.
So, that's it! These are some movies which were ruined by its disappointing climax. What's your thoughts about this, Let me know in the comment section below.