Thinking of Bollywood induces some unforgettable names in my mind such as 'DDLJ', 'Dil To Pagal Hai', 'Hum Dil De Chuke Sanam', 'Mohabbatein', and so on. But when I get to know that most of 90s and 2000s movies are either remakes or inspired? I was surprised. Well, among all these films, Mohabbatein has the confusion over 'whether 'Mohabbatein' is a remake or an inspired one'.
If you also have this query in your mind, you are definitely at the right place. Stay tuned till the last. And also know about some lesser known facts about Mohabbatein.
Mohabbatein movie
Why Mohabbatein is not like the other romantic Bollywood movies?
Well, this movie is the second movie of Aditya Chopra as director. As we all know, the 90s and the 20s is the era bless with numerous cliché romantic movies. Nevertheless 'Mohabbatein' has a different place among all of those.
Normally the storyline of other films goes like this – the hero and the heroine start to like each other, fall in love, and after all these, some conventional villains comes into the story and separate them.
But Mohabbatein doesn't have the same stereotypical storyline.
Because if you look at the story of 'Mohabbatein', there is neither dramatic Romance between the hero and heroine, nor any powerful villain to separate them. Instead, Mohabbatein shows the cherishing way to celebrate love by falling into it.
If I have to answer yes or no, it will be no or slightly yes as well!!!
Basically, this film's theme is inspired by the American movie called 'Dead Poets Society' (1989). Otherwise, Mohabbatein is totally different .
Story of Mohabbatein | Is Mohabbatein a remake of Dead poets society
The storyline of Mohabbatein is based on a music teacher who helps in prospering the love lives of his three students against their strict principal who hate even the word 'love'.
But on the other hand, the storyline of Dead poets society was written by Tom Schulman and is centered on an English teacher who teaches and inspires his students to live life, the ultimate meaning of individuality, and many more such lessons about life.
As you can see, the storyline of both the movies is set up in some theme to teach life lessons, but not over the same subjects. Aditya Chopra created this story with so much emotion which touched the hearts of the audience.
Unknown facts about Mohabbatein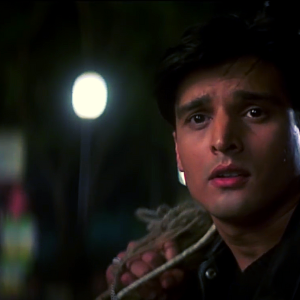 Yes! there are some really amazing facts that can make someone surprised, let's cover them.
Many people believe that Mohabbatein is Aditya Chopra's directorial debut. But it's not!
Aditya Chopra made his directorial debut with DDLJ which is a blockbuster even till now. Although, the story of Mohabbatein was the first idea he planned for his directorial debut.
Do you know that Aishwarya Rai was not the first choice for the character Megha?
Since Shahrukh-Kajol was the most favourite pair after DDLJ, so, Kajol was the first preference for this film.
I think Bollywood lovers can never be happier than watching two mega stars, Amitabh Bachchan and Shahrukh Khan in one frame. And this was the film where this miracle happened for the first time.
Moreover, this was the second time when Shahrukh and Aishwarya shared screen.
The film introduced 6 new faces who were Uday Chopra, Jugal Hansraj, Jimmy Sheirgill, Shamita Shetty, Kim Sharma, Priti Jhangiyani.
Besides them, Amrish Puri, Shefali Shah, and Helen were in the special appearance in the film.
Additionally, Farah Khan choreographed for this film Jatin Lalit composed and Anand Bakshi wrote the lyrics of all those songs.
Although, one of the most successful directors of the industry Karan Johar was not the director of this film, but yet he designed the costumes for Amitabh Bachchan while Manish Malhotra created gorgeous costumes for Aishwarya.
All the dramatic evergreen dialogues from this movie were written by Aditya Chopra. And there is no doubt that the dialogues are still iconic and as famous as it was 22 years back.
The iconic soundtracks of this movie were the highest selling Bollywood soundtracks of the year with the sales of 5 million album copies.
Do you know that, Mohabbatein is a silver jubilee film running over 175 days at the theatres?
Mohabbatein Box Office Collection
Bhool Bhulaiyaa 2 Box office collection
Undoubtedly, Aditya Chopra left no stones unturned to convert his dream project into a masterpiece! He chose everything best for this film.
In fact, he shared in an interview that he made Mohabbatein more than just a romantic film and which will be a breakthrough in the Bollywood industry forever.
And all this hard work pay back when Mohabbatein fires the box office with a collection of 900 million (while the budget of the film was merely 130 million).
Overall I can say that, maybe the theme of Mohabbatein is a copy of Dead poets society, otherwise, the film is a fresh content as a whole.
What do you like so much in 'Mohabbatein'? And did you know all of the above facts about this film? And also tell me if you already know that Mohabbatein is a remake?
Share your thoughts in the comment section below.