Even after government lift Section 377, still this community face lots of hatred from society. But some of Bollywood directors came forward and created some movies that have LGBTQ community in centre. And movies like Badhai do is the fresh example of it.
So, lets start and know about the movies, that you will like, if you loved Badhai do.
Shubh Mangal Zyada Saavdhaan (2020)- Movies Like Badhai Do
In Shubh Mangal Zyada Saavdhan', director Hitesh Kewalya showed the relationship of two gay men, Aman and Kartik.
Because of the fear of hatred, Aman never expressed his sexuality to his family. Unaware of that, his family arranged his marriage.
In this whole journey, Aman's lover, Kartik accompanies him and fights against the negativities of the family and society.
Hitesh showcases this serious concept of 'Homosexuality' in a very light manner by including comical touch.
This film features Ayushmann Khuranna (Kartik) and Jitendra Kumar (Aman) in the key roles.
Chandigarh Kare Aashiqui (2021)
Next, I have Abhishek Kapoor directed 'Chandigarh Kare Aashiqui' starring Ayushmann Khuranna and Vaani Kapoor. This film brings the exceptional concept of 'Transgender' community.
Vaani Kapoor played the role of a Zumba Instructor, named Manvi with whom Mannu (the character of Ayushmann) falls in love. Mannu falls for Manvi, without knowing that Manvi is actually a transgender.
After many intimate and loving moments, Manvi unfolds her truth to Mannu. Aftrer listning the truth he starts to get mad and angry at her. And claimed that she (Manvi) cheats on him.
But the love between them was as strong to get them back together. So, at last, Mannu understands the feelings of Manvi and comes back to support her firmly.
This is a fine love story along with a strong message to the society.
Ek Ladki Ko Dekha Toh Aisa Laga (2019)- Movies Like Badhai Do
The trailer of the film made so tactically, that no one can understand the central subject of the film. Maybe, Shelly Chopra Dhar directed this film didn't hit the box office but can definitely touch one's heart.
Sweety Chaudhary belongs to a Punjabi family where everyone is always super excited about her marriage. But years after years, Sweety gradually discovers her actual interest in love when she met a girl, Kuhu.
Sweety's family took many initiative for Sweety's marriage, but when they get to know about Sweety's truth, it shocked them.
Sweety's single father Balbir, get reluctant to accept this truth.
Sahil (Rajkumar Rao), who loves Sweety makes sure to normalize everything and to support Sweety till last. And, after many complications, Balbir realize his flaws, and his daughter's hustle to get her real love.
By listening the title of the film 'Ek Ladki Ko Dekha To Aisa Laga', we imagine about a gentle man who suppose to be mad and fall in love at the first sight with a girl. But this film attempts to change the perception of people about this line.
Aligarh (2015)
Starring two most talented actors of Bollywood Industry, Manoj Bajpayee and Rajkumar Rao, the story of the film is based on a true event.
This real life story is based on a professor named as, Ramchandra Siras at Marathi Muslim University in the city Aligarh, Uttar Pradesh.
The story starts with a terrible incident when a film crew filmed some intimate moments of Professor Siras with a Rickshaw-puller. And this causes him the suspension from his post at the University and a huge insult from the society.
But instead of stepping back he fights for himself and for his rights. So, he takes his case up to the court. In this journey, a journalist (Rajkumar Rao) supports him and helps him to share his story to the public.
Although, the court gives judgement in the favor of him, but unfortunately Siris can't celebrate his rights, as he found dead before the court order.
Its only a film, but still the struggles of Siri make you cry. We can't imagine the pain Siri suffered in his last days.
Margarita With A Straw (2014)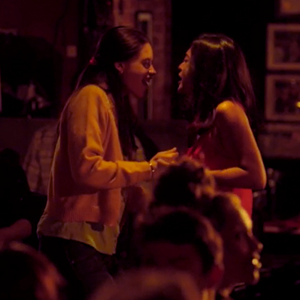 Shonali Bose directed, this film built on the subject of 'Bisexuality'.
The main character of the film, Laila Kapoor, a teenager girl has a disorder, named 'Celebral Palsy'. Despite this disorder, she is a bright student and an aspiring writer.
She was broke down in love by a guy but she overcomes that and moves on in her life. Later, she encounters with an another guy and builds feelings for him.
Meanwhile, she also has a close relationship with a girl.
The physical and mental closeness with a guy and a girl at the same time clarifies Laila's bisexuality.
This film shows a example of self-acceptance of a bisexual person.
Fire (1998)
'Fire' is a courageous approach by Deepa Mehta. The two biggest reasons that why Deepa Mehta deserves a big salute are –
Making the first Bollywood film featuring a lesbian relationship and
Taking this tough decision despite being a female director.
The homosexuality is shown between two housewives who are sister-in-laws in relation. Suffering from their separate life problems, they find peace and love in each other.
But revealing their truth brings some hard battles in their life. 'Fire' is the first part of Deepa Mehta's 'Elements Trilogy'. The other two parts are 'Earth' and 'Water'.
In 90s, where other Bollywood directors were interested in making super cliché films which can be hit at box office. At the same time, Deepa Mehta did this courageous masterpiece without having any intension to earn huge profits.
Despite this film's excellence, this film got banned in India. Deepa Mehta is the first director of Bollywood who brought the first Bollywood film over the subject of homosexual relationship.
This journey was more difficult for her as she was the initiator of this, and the audiences were not so open-minded at that time compared to now. Due to this 'Elements Trilogy', she got several murder threats also.
In this movie, which rebellious actresses accompanied Deepa are Shabana Azmi and Nandita Das.
I Am (2010)
Onir directed 'I Am' is a combination of 4 different stories called, 'Afia', 'Megha', 'Abhimanyu', and 'Omar'. Each of the stories are based on real-life incidents.
Afia :

Based on – Sperm Donation

Cast – Nandita Das, Manav Kaul, Anurag Basu, Purab Kohli

Megha:

Based on – Kashmiri Pandit

Cast – Juhi Chawla, Manisha Koirala

Abhimanyu:

Cast – Sanjay Suri, Radhika Apte, Shernaz Patel, Anurag Kashyap, Pooja Gandhi

Omar:

Cast – Rahul Basu, Arjun Mathur, Abhimanyu Singh
This film is based on several sensitive topics which are not accepted by our society in a common manner.
Kapoor & Sons (2016)- Movies Like Badhai Do
Shakun Batra directed 'Kapoor & Sons' is more than a romantic film as it is about a family drama. But the additional matter, which makes this film to add in this list is, Fawad Khan's character of a gay.
The Kapoor family always have many disputes between them.
The two young sons of this family is Rahul Kapoor (Fawad Khan) and Arjun Kapoor (Siddharth Malhotra).
Here also in the film, Rahul's sexual choices are questioned bitterly which makes this film more unique.
Bomgay (1996)
'Bomgay' is a 'Gay relation' based short film which is directed by Riyad Vinci Wadia and Jugnu Sethna. It is consider as India's first Gay film.
This short film is based on a poem, written by R.Raj Rao and contain total six segments. The main characters in the film was played by Rahul Bose, Kushal Punjabi, and Tarun Shahani.
The six segments of the film are 'Opinions', 'Underground', 'Lefty', 'E unema no', 'Bomgay', and 'Friends'.
So, these are some movies which portrayed the concept of LGBTQ community as like Badhai Do.
Many Bollywood directors are trying to normalize this matter by their films which must be appreciated and supported by us.
It is our responsibility to put forward this message and give the equal rights and respect to the LGBTQ community. Because every individual from this community fights a lot for their rights, respect in the society and equality with the other persons.
These unique Bollywood movies you can't miss if you see logic in movies
List of Banned movies in Bollywood
So, I will request you to share your valuable thoughts upon this sensitive and important matter in the comment section below. And let me know what do you think about these movies?