A diva in the Bollywood industry, Vidya Balan, is famous for breaking the stereotypes. Yet, there is a quite long list of movies she works on is turn out as flop/average. So, here I created Vidya Balan worst movie list. Read and let me know what do you think?
Ghanchakkar
It isn't that, the audience didn't enjoy this thriller comedy or Vidya failed to play her role properly. But this movie's plotline from the beginning is intriguing and hooked, for some reason. And the ending of story is rushed, unsatisfactory, and pointless.
Needless to say that, the potential script ruined itself with such a climax that turned the comedy completely illogical. 
Halla Bol
A movie is consider as too unrealistic, simplistic, and preachy. The screenplay came across as boring and same old concept to the audience. In this movie, Vidya played the role of Sneha opposite Ajay Devgan.
Vidya Balan Worst Movie List – "Shaadi Ke Side Effects" 
Another movie with fabulous beginning yet illogical plot progress. It misses the consistency of the story and switches from anti-marriage to the ideal happily married after an eye blink.
The on-screen chemistry between Vidya Balan and Farhan Akhtar was engaging, though Vidya's character came across as quite negative. All in all, it's a good typical Indian family movie for time pass but has nothing impressive.
Hamari Adhuri Kahani
A deep movie spoiled with loopholes and a lack of consistency in the script.
Vidya Balan's role stuck between a socially acceptable marriage with a man hard-to-love. And a wealthy yet lonely man whom she unexpectedly fell for.
Emraan Hashmi, as usual, lived up to the expectation. Rajkumar Rao had a small screen time but he acted well enough to leave an impression. Overall a fair film but not a superhit or blockbuster. 
"Bobby Jasoos" Another movie included in Vidya Balan Worst Movie List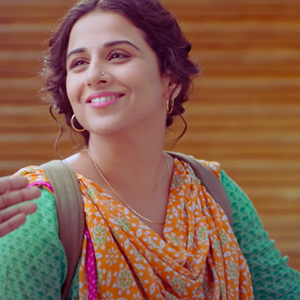 The story is mark as illogical, debatable, and pretentious by most film critics. The childish way of describing a professional detective clearly shows the ignorance of the screenwriters.
Vidya, despite trying her best to portray the different disguises properly, couldn't even compare to veteran actors such as Sanjeev Kumar, who perfectly delivered nine different roles in "Naya Din Nayi Raat".
This movie was an absolute disappointment to the viewers. 
Begum Jaan
With a background of a brothel in the Indo-Pak partition times. And a strong actress Vidya Balan, the movie could have done wonders if not for the poor direction and baseless scenes.
The typical idea about a brothel being all about foul languages and sulking faces of prostitutes was portrayed in the movie.
From this, it is evident that it is another Bollywood movie with no research done on the movie concept. 
The movie saved itself from being a flop mainly due to the presence of two big stars – Amitabh Bacchan and Vidya Balan respectively.
The acting no doubt was engrossing. However, the scene was too complex without any apparent reason.
According to most viewers, it was engrossing but definitely not thrilling enough.
Vidya Balan worst movie list- "Eklavya"
"Eklavya-The Royal Guard" was an average movie at its best. It could have been a top classic movie in the industry if not for a half-baked climax. Also, Vidya didn't perform her best in this movie.
The flow of the movie appears as force-fit.
Salam-E-Ishq
The movie was engaging and coupled with great on-screen chemistry between the six couples.
The stories of each couple were interwoven too chaotic, making it a huge turn-off to the viewers.
Corny dialogues and over-the-top comical scenes made the movie quite unbearable to watch.
These were the worst movies of Vidya Balan. However, you could still give a few of them a try. The ranking is really just by the film critics.
If you want to merely pass time with a movie and don't care much about logic, then you might end up enjoying them. 
Bollywood actor Akshay Kumar worst movies