Lupita Nyong'o is a Kenyan-Mexican actress known for her powerful performances. Audiences impress by Lupita Nyong'o's extraordinary talent and range as an actress. This article will examine some of the top Lupita Nyong'o movies that highlight her exceptional acting talent, variety, and capacity to make characters come to life.
You may also Love to read:- List Kathryn Newton Best Movies that should watch at once in your life .
Exploring Lupita Nyong'o's 7 Most Memorable Movies
12 Years a Slave (2013)
Lupita Nyong'o has a prominent role in the 2013 critically acclaimed movie 12 Years a Slave. The Steve McQueen-directed film based on Solomon Northup's 1853 autobiography, a free African-American who was abducted and sold into slavery.
Patsey, a fellow enslaved woman develops a complicated bond with Chiwetel Ejiofor's character, Northup, played by Lupita Nyong'o. She earn a lot of positive feedback for her work in the movie and recognised with various honours, including the Academy Award for Best Supporting Actress.
Star Wars
Lupita Nyong'o appeared in the Star Wars franchise as Maz Kanata, a wise and enigmatic alien character. Here are the Star Wars movies in which Lupita Nyong'o portrayed Maz Kanata:
Star Wars: Episode VII – The Force Awakens (2015)
Star Wars: Episode VIII – The Last Jedi (2017)
Star Wars: Episode IX – The Rise of Skywalker (2019)
In these films, Lupita Nyong'o brought Maz Kanata to life through motion capture technology and voice acting. Maz Kanata is a small, ancient alien who runs a cantina and possesses deep knowledge of the galaxy's history.
Black Panther (2018)
In the Ryan Coogler-directed film "Black Panther" (2018), Lupita Nyong'o has a significant part. She played the part of Nakia in the movie, a talented spy and the love interest of Chadwick Boseman's T'Challa/Black Panther.
Little Monsters (2019)
A washed-up musician named Dave agrees to supervise his nephew's kindergarten class trip in the horror-comedy movie "Little Monsters."
Miss Caroline, played by Lupita Nyong'o, is a kindergarten teacher who, in the midst of the pandemonium, turns into a strong protector for her kids. Her comedic timing and charming presence were praised for her role in the movie.
Us (2019)
In 2019, the psychological horror movie "Us" was released. In the film, Lupita Nyong'o took the lead role and gave a stirring performance. Jordan Peele's "Us" depicts the tale of a family who encounters a group of doppelgängers who are a threat to their life. Critical appreciation and attention drawn to Lupita Nyong'o's ability to represent both the main character and her scary duplicate.
Serengeti (2019) [TV Series Documentary [As Narrator]
Serengeti" is a TV series documentary in which Lupita Nyong'o served as the narrator. It is a documentary series that explores the lives of various animal species in the Serengeti region of Tanzania. Lupita Nyong'o provided the narration for the series, bringing the stories of these animals to life.
Queen of Katwe (2016)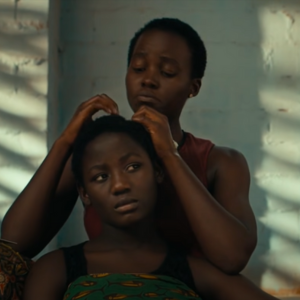 Lupita Nyong'o play a key role in the 2016 movie "Queen of Katwe." The film, which was direct by Mira Nair, is based on the inspiring true tale of Phiona Mutesi, a young Ugandan girl from Katwe's slums who becomes an international chess champion. In the movie, Lupita Nyong'o played the role of Phiona's mother, Harriet Mutesi. Her portrayal in "Queen of Katwe" received a lot of praise and demonstrated her acting talent.
The Jungle Book
Lupita Nyong'o did provide the voiceover for the character Raksha, the mother wolf, in the 2016 live-action adaptation of "The Jungle Book".
You may also Like – List of best J-Laws movies you can't miss.
Conclusion
She keeps challenging herself and pushing boundaries with each new film, enthralling audiences with her extraordinary acting talent. The filmography of Lupita Nyong'o offers proof of her commitment, adaptability, and capacity to give each role she plays depth and authenticity.