I will tell you all about Himanshi Khurana age husband, controversies, and her relationship with Asim Riaz.
Who does not know about Himanshi Khurana? She was last seen in Bigg Boss season 13 and created some sort of controversy with the other contestant Shehnaz gill.
Apart from this, she also came into the limelight because of her relationship with Azim Riaz.
They also came together for song albums "Khayal rakhiye kar" and "Tu Kalle Sona Nahi". Here I will tell you all the details about Himanshi khurana age, family, and relationships. And how she became the hot topic during Bigg Boss season 13.
Himanshi khurana age, husband
The early life of himanshi khurana
She was born on 27th November 1991 (currently 28 years old) in Kiratpur Sahib, Punjab.
And did her education in Ludhiana. Her father is in a government job and her mother is a social worker. Himanshi says that her mother is her true inspiration.
Because she is the one who motivated Himanshi for her acting and modeling career. She has two brothers Hiten and Apram deep Khurana.
According to her mother, Himanshi is a very creative person since childhood. Her father wanted Khurana to become a nurse.
But she wanted to establish her career in modeling. Therefore at the age of 16 years, she signed her first modeling assignment.
In 2009 she won the tag of miss Ludhiana. And later on, moved to Delhi to polish her modeling career.
In 2010 her first music album the "Big day party" launched. But by this, she only grabbed a little bit of attention.
Later she appeared in songs like Insomnia and Hardy Sandhu's Soch and through this, her fame increased. Afterward, she enters Bigg boss (Season-13) house as a wild card entry.
On this show, she gets close with Asim Riaz. But before this, she was rumored to be in a relationship with Punjabi singer Amy Virk.
And it is also known that she was engaged to a guy named Chaw when entered into the big boss. But at present time she is with Azim Riaz.
There were also rumors about their breakup but later on, it turned out only a rumor.
Controversy
Apart from her relationships, she came into the limelight for the fight with another big boss contestant Shehnaz Gill.
In a live session, Shehnaz told some bitter things about her looks and her song albums.
As a result Himanshi also burst her anger. Which lately started an ugly fight between them.
But after some days their matter got solved and they became friends again.
Here is a thank you bonus for reading my article
Some interesting facts about Himanshi Khurana:-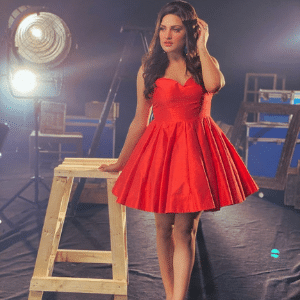 Favourite actor- Robert Downey Junior.
She started her career in Bollywood industry from movie Jeet Jaenge Jahaan. Also read: Bollywood movies you should not missed
Fav. actress- Kareena Kapoor, Parineeti Chopra and Samantha Ruth Prabhu.
She is fond of movies especially science fiction.
Fav. singer- Babbu Maan (even she has a tattoo of his name in her hand).
Favourite place- Paris
Fav. youtuber- carryminati
Favourite cricketer- Virat Kohli
She is an owner of BMW 6 Series.
She is fond of perfumes and carry at least one perfume in her purse.
Want to know what went wrong between Shehnaz Gill and Himanshi Khurana? Tap Hereto know more.
Did I skip something? Tell me in the comment section below.